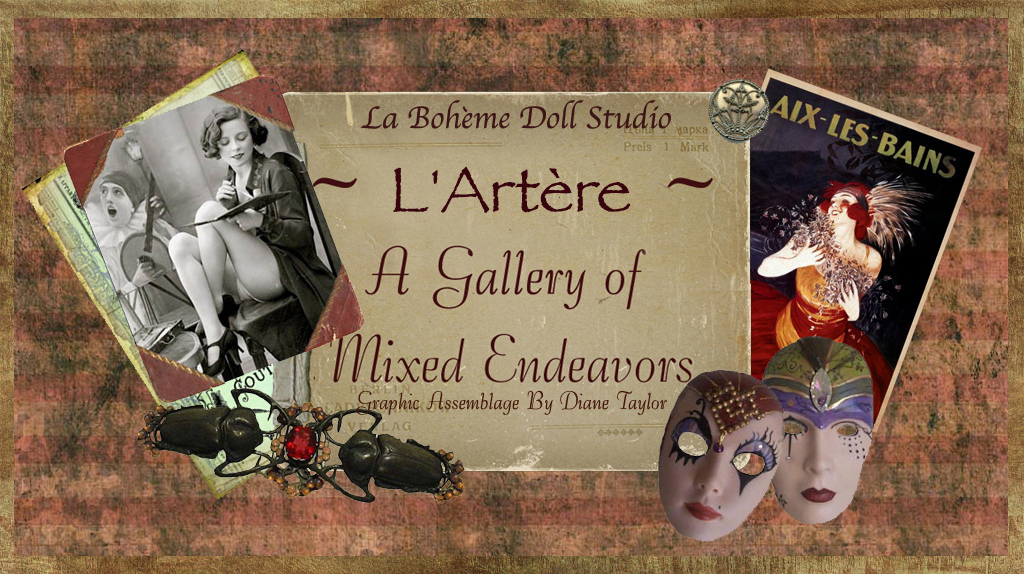 These dolls have found homes please
Have a pet that you would like immortalized in clay? Your pet will be dressed in a costume depicting their personality and comes with a signed letter of authentication which includes story based on personality trait of animal with information provided by you. For example please read stories created below for dolls listed above.
Questions? Just email me and we can go from there. diane@labohemedolls.com
Click below for each Doll's back story
Joey – Softball Champion:
Joey is to Gypsy Hollow what Roger Clemens was to the New York Yankees, only female. Dressed in typical Beastie softball attire of Purple Silk and Gold Lame, Jolton Joey as she is affectionately called by fellow teammates pitches so lightning fast that her balls have been clocked at 95 miles an hour which is no easy task when you consider the length of her front legs and no thumbs to speak of. Not always a pitcher, Joey remembers when as a puppy constantly chasing balls that were thrown her way, Just when she retrieved it … there it would go again for no apparent reason other than to have her chase it. As she grew a little older and wiser she decided that she would be the one throwing the ball and someone else could do the chasing. That decision turned things around for her and changed her destiny Trained by the famous Topo Popolo, Babe Zoot, Joey has led her team, THE BEASTIES, to number one position in all of Gypsy Hollow causing her to be the first female softball player to be listed in the Gypsy Hollow hall of Fame. Joey is so good that players on both sides honor her by dumping the contents of a large can of dog food over her head at the end of the game. As Joey says "It doesn't get much better than that"
Tidbit Borgia ~ Pugnacious Pug:
is the direct descendant of Mesalina Borgia, pug dog to the infamous Lucrezia Borgia. Actually Lucrezia's dog and Tidbit's ancestor was named Lina but due to Lucrezia's relaxed disciplinary habits Lucrezia was known to exclaim "Whata … another messa Lina?" whenever she pottied on the floor …. the dog, not Lucrezia. So the name Mesalina stuck and so did her master's habits of lascivious and carnal appetites, however one mating was enough for Tidbit who found the whole process unseemly and lewd and giving birth akin to passing a kidney stone through her nose, she vowed no male stud would get that close to her again and true to her word she knocked the living daylights out of a Newfoundland when she found him nosing around her backside in an unseemly fashion. Because of many interbreedings in the Borgia household .. pet and otherwise, Tidbit has been left with issues of her own …. This pug has been to more anger management classes than you shake a stick at … and even the famed Topo Popolian Shrink, Sigmund Fraud has thrown up his arms in utter frustration at not being able to cure Tidbit of her hostility at almost everything. Tidbit has found that the only thing that brings her contentment and relaxes her innermost turmoil is to play soundtrack excerpts from the Godfather movie on her Mandolin. Although she sometimes visits with her children Madame Ruppy and Bee Bee the Ballerina she enjoys her privacy and lives alone with her castrated eunuch Chihuahua servant, Joaquin in a modest Villa in a mixed Italian/Spanish section of Gypsy Hollow.