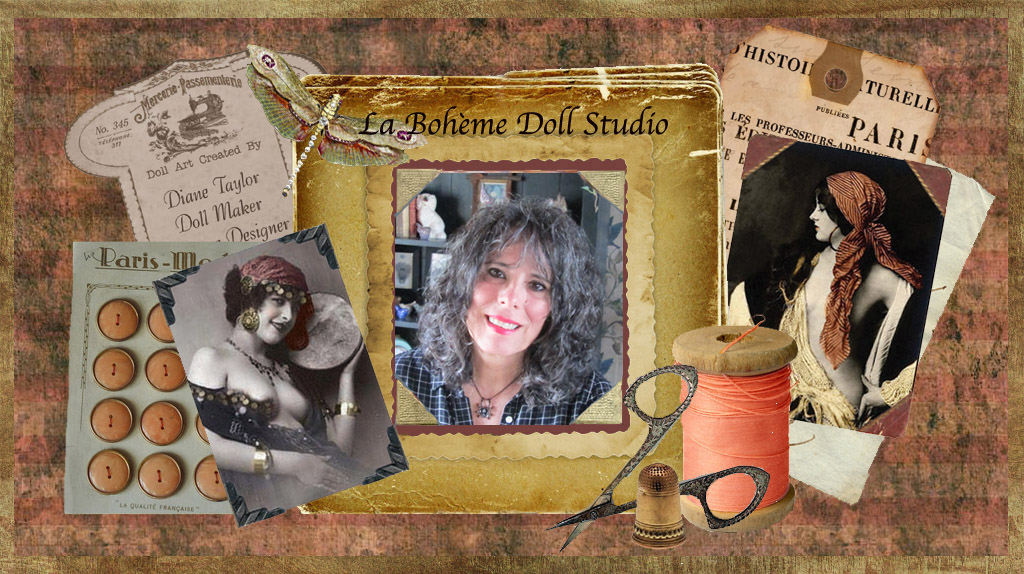 The art of Porcelain doll making is a labor intensive art form. Using Molds, all dolls are painstakingly made from pouring the slip to the final stitch on the clothing. While a lot of people use commercial molds, the argument continues whether or not they are One of a Kind creations. I like to think that my porcelain dolls are. True, anyone can pour the same doll, but through the painting, wigging and costume, they become the artwork of the individual doll artist. My dolls are all costumed in my own creations and since I do not sell my patterns, you will never find another doll dressed quite the same way. Also, I never repeat a costume so in a sense the doll you are purchasing from me is a true One of a Kind Porcelain Creation. Whether you purchase a 5.5 inch doll, or an 18″ doll, each one gets the same attention to detail. Currently, I will make custom dolls if the choices are left to me. For example if you want a specific type of doll, like a fairy or witch or Victorian, I will do that. You may pick a color for costume. But I can no longer make dolls where it has to look specifically like a person. This takes too much time and effort and so if you would like or need a doll for your dollhouse or showcase please send me a message on the Contact Page.
The One of a kind sculpted dolls are created from Polymer clay around a wire armature. These are a true one of a kind creations, there being no other like it anywhere else. As with the porcelain dolls, the sculpted dolls also are dressed in elaborate costumes, but costumes that are a mix of different ethnic styles … making them the whimsical folk of Gypsy Hollow where they live. If you would like your pet immortalized in clay Please let me know. The process takes about two months and is based solely on information I receive from you. They are dressed in the costumes of the pet's personality and come with their own story based on information you provide. The rest is fabricated within my own imagination. All One of a kind sculpted dolls come with a signed letter of authentication.
All of my dolls are intended for collection purposes and not for children. My dollhouse size dolls are dolls of distinction, not typically the average of what is out there and you will never receive a doll that is costumed in shoddy workmanship. I take my time and it is a true fact that you get what you pay for.
Meantime for myself I live each day as it comes, I delight in my family and friends, I provide a loving home to my animals and in all my endeavors I continually desire to bring glory to Jesus Christ in how I live, work and play.